In-class at
Beijing and Shenzhen
Participants who successfully complete all modules will receive a CKGSB/IMD joint certificate
Building a digital ecosystem of partners offers you a powerful lever to accelerate growth. Nearly 90% of top global companies aim to leverage a digital ecosystem of partners, but the complexity can be overwhelming, and the failure rate is high to sustain these partnerships.
So how do you succeed in your own market and beyond?
Building Digital Ecosystems brings you deep insights into high-performing digital ecosystems from the perspectives of both China and the USA. With cutting-edge research and the latest cases, academic experts from CKGSB and IMD are teaming up with leading industry practitioners to provide you with thought-provoking lectures, discussions, and access to diverse global ecosystems, from digital giants to newcomers and transforming incumbents. You will go on field case studies and witness the latest innovations first-hand. You'll also have the opportunity to connect with thought leaders, scaling entrepreneurs, and practitioners who are at the forefront of digital transformation.
We will guide you through your own ecosystem project to identify what needs to be done to unlock digital growth opportunities for you. And you will discover how sharing resources and expertise will bring you much closer to your customers, with new data and insights to be more innovative, agile and competitive.
You will leave the program with an action plan, plus the skills and confidence to implement your own digital ecosystem.
Are you seeking digital growth opportunities to your organizations more agile, innovative, and competitive? Do you want to take your digital transformation to the next level?

This program is designed for digital transformation leaders and executives, scaling entrepreneurs as well as leaders from NGOs, social enterprises, and governments.

Typical profiles include:
Head of Strategy, Head of Partnerships, Business Development Director, Digital Transformation Manager, CEO, CTO, CDO, VP, Director of Sales, General Manager

Typical industries include: 
Retail & Consumer Goods, Finance & Insurance, Energy, Entertainment & Media, Fashion & Beauty, Information Technology, Manufacturing, Agrochemicals, Engineering, Services, Health Care, Manufacturing, Logistics & Supply Chain
Case Studies: Learn what works (and what doesn't) in a digital ecosystem from the strategies of:
• Digital giants e.g., Alibaba, Amazon, Google, JD, Meituan, Tencent.
• Newcomers e.g., TikTok, NIO, Pinduoduo, RED.
• Transforming incumbents e.g., Nestlé, Ping An, Geely, Nike, Bayer.
Joint program with IMD business school: Benefit from global faculty insights and their deep industry connections, spanning the Americas, Asia and Europe.
Successful Ecosystem Framework: Discover the "flywheel" ecosystem framework to guide your own successful strategic choices.
Latest Digital Tools: Work with the latest digital tools and analytical models; understand risks and ethical issues.
Exclusive Networks: Interact and network with digital leaders, corporates, scaling entrepreneurs and successful Chinese leaders (CKGSB alumni).
Personalised, action-based learning: Focus on implementation and build your own digital acceleration plan.
Day 1 The Digital Ecosystem Edge


Your program starts by introducing the digital ecosystem strategy framework and explore the customer journey as the anchor of your ecosystem  strategy.
You will go deeper into the digital ecosystem framework to identify best practices for winning competitive battles in digital ecosystems.
Day 2 Building Digital Ecosystem in B2B


You will delve into digital ecosystems in B2B, namely the role of inter-connectivity, capturing new value from your existing tech infrastructure.
Field case study on B2B ecosystem in logistics – JD.com (China's largest online retailer, member of the Fortune Global 500).
Day 3 Building Digital Ecosystem in B2C


Focus on digital ecosystems in B2C, namely building private traffic pools and global ecosystem brands.
Look towards Web3 and next-level ecosystems.
Field case study on B2C Ecosystem – TikTok HQ.
Day 4 Managing your Ecosystem Foundations


Focus on building your ecosystem engine, namely middle office – APIs and micro-services, and front office – building best digital UX.
You will study data analytics and machine learning in ecosystems.
Field case study on B2B2C Integrated Ecosystem – Tencent, 3nod (OEM, ODM, OPM – The World's Leading OPM Manufacturer).
Day 5 Leading your Digital Ecosystem for Impact


Focus on leadership in ecosystems and preparing your organization.
Consider the impact of ecosystems – and the positive impact on individuals, organizations, and society.
Building Digital Ecosystems is a unique    program, bringing you deep insights into high-performing digital ecosystems from the perspectives of East and West.
Meet Your Program Co-Directors
Associate Professor of Marketing
Executive Academic Director
MBA Program & Executive Education Programs
CKGSB
Yang Li's research focuses on Machine Learning, Bayesian Nonparametrics, Big Data, Choice Modeling, Text Mining, Recommender Systems. Professor Li has published on leading academic journals such as Management Science, Marketing Science, and Journal of Marketing Research. At CKGSB, Dr. Li teaches marketing management to MBAs, EMBAs and Executive Education. He has also consulted for Tencent, Baidu and Yonghui Groups, and currently holds a US patent.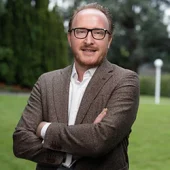 Professor of Innovation & Strategy
IMD
Mark Greeven's research focuses on organizing innovation in a turbulent world. He collaborates with innovative Chinese companies and entrepreneurial multinationals to explore novel ways of organizing, accelerating innovation, enabling digital business transformation and designing business ecosystems to thrive on uncertainty. He frequently contributes to prestigious publications such as Harvard Business Review and MIT Sloan Management Review and is author of Business Ecosystems in China. He's a founding member of the Business Ecosystem Alliance. In 2017 he was named on Thinkers50 Radar list of 30 next-generation business thinkers.
Contributing faculty and industry experts

Professor of Managerial Practice & former Associate
Dean
Former Chief Strategy Officer, JD.com

CKGSB Faculty

Professor of Marketing
Director of Social Innovation & Business for Good Center
Director of Common Prosperity & Social Innovation Center

CKGSB Faculty

Professor of Information Systems Senior Advisor, Alibaba Group

CKGSB Faculty

Professor of AI, Analytics & Marketing Strategy

IMD Faculty

Professor of Digital Strategy, Analytics & Innovation Dean of IMD South East Asia

IMD Faculty

Professor of Strategy and Digital Transformation

IMD Faculty
Express your interest to enroll
Please fill out the form below for self or group nominations. Our Program Manager will reach out to you shortly to take your inquiry forward. Thank you.